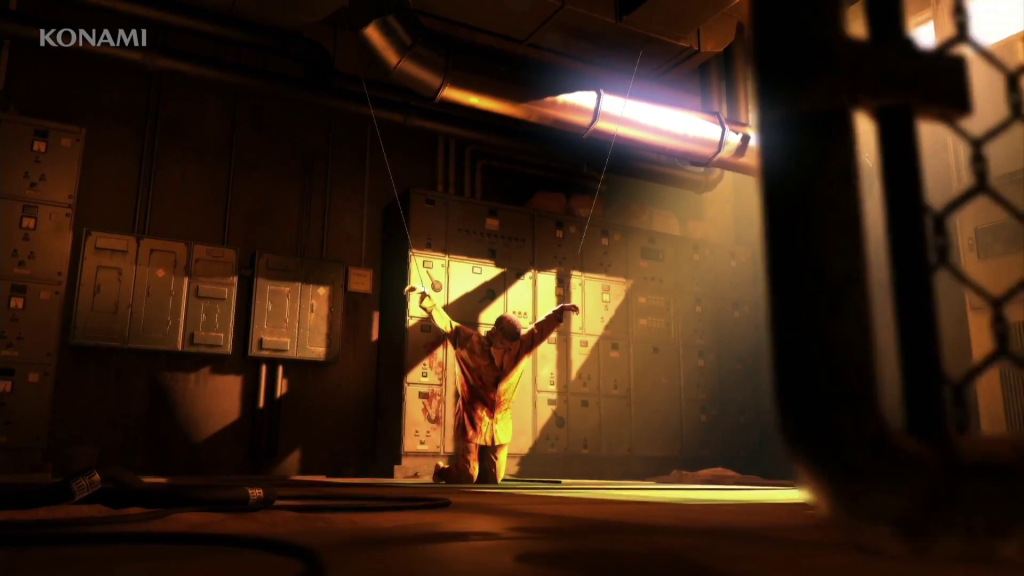 Pelasimme uusimman Metal Gear Solidin PS4:llä ja panimme muistiin. On tosin kyseenalaista, voiko Ground Zeroesia kutsua Metal Geariksi, koska se on lähinnä rajoittunut ja keskeneräinen mainos tulevasta MGS V:stä.
– Taidetyyliltään MGS on muuttunut länsimaisemmaksi. Nyt liikutaan lähellä Call of Dutyjen ja Battlefieldien militaarimaisemia. Omalaatuisuus ja yliluonnolliset vibat ovat karisseet hyvässä ja huonossa mielessä. Myös pelimekaanisia ideoita ja efektejä on lainattu länkkäri-AAA-peleistä. Kiikareilla tägättävät viholliset ja huomioindikaattorit ovat suoraan Far Cry 3:sta, ja Snaken terveysmittari on korvattu kaikista nykypeleistä tutulla ruudunpunerrus- ja veritehosteilla. Aseita voi kantaa vain sen verran kuin vaikkapa Battlefieldeissä, ja myös niiden vaihtaminen kentältä löytyviin onnistuu lennossa länkkäriammuskelutyyliin.
– Arvosteluissa ja keskusteluissa on toitotettu eroa aikaisempiin Metal Geareihin. Pelattavuudeltaan GZ on kuitenkin kovin lähellä Peace Walkeria, paitsi että kontrolleja on edelleen yksinkertaistettu. Graafisesti peli ei ole niin paljon MGS4:ää edellä kuin luulisi.
– Pelistä huokuu keskeneräisyys ja hiomattomuus suhteessa edeltäjiinsä. Välillä valonheitin valaisee maastoa kallion läpi tai Snaken rynkky tärisee selässä fysiikkamoottorin bugin vuoksi. Kiikareilla merkatut viholliset näkyvät seinien läpi puolen kilometrinkin päästä, mikä on varmasti tarkoituksellinen ratkaisu mutta myös turhaa ja erityisen epärealistista.
– Muutamat design-ratkaisut ovat kummallisia. Tägätyt sotilaat jostain syystä myös hehkuvat luurankoina, mikä vaikeuttaa etäisyyden arviointia ja toisaalta tekee hiipimisestä liian helppoa. Muutenkin tällaisia automaattisia tukiasioita pitäisi vähentää eikä lisätä, kun on kyse hiiviskelypeleistä. Stealth-mekaniikoiltaan MGS kolmonen ja nelonen lienevät parhaita. Tägäämisen ja aikaa hidastavan "reaction timen" voi tietysti kytkeä pois päältä, mutta kehityssuunta on silti harmillinen.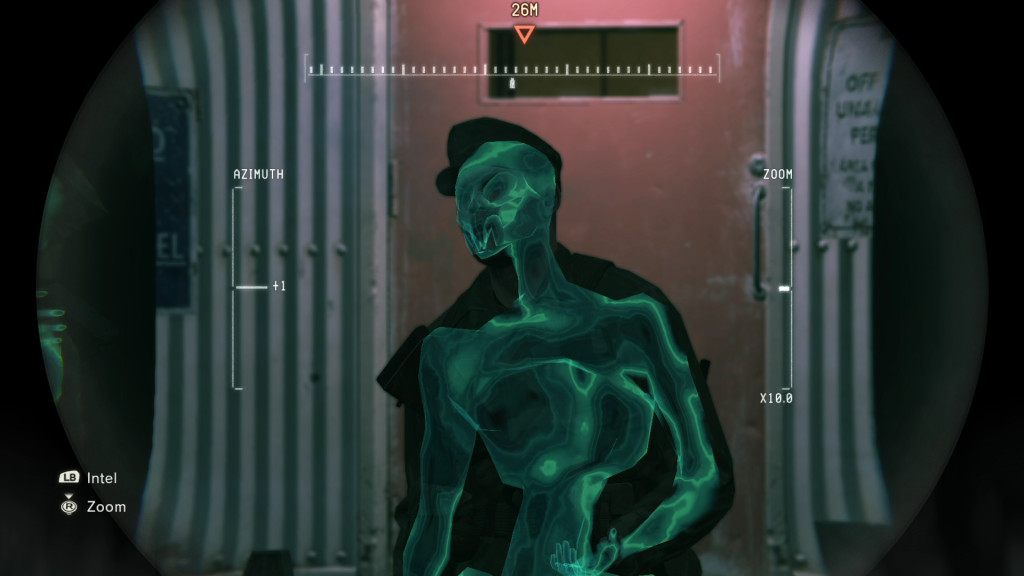 – Pelikokemuksena GZ on hyvä mutta lyhyt eikä mitenkään erityinen. Vaikka se on ylikallis ja hävyttömän pätkä peliksi, se ei missään nimessä ole "huono". Monella tavalla se on sitä, mitä odotimmekin. Jotain jää silti puuttumaan. Ehkä se on David Hayterin ääninäyttely, ehkä vanhojen MGS:ien hullut monologit ja polveilevat codec-keskustelut, ehkä tiukempi draaman kulku ja nopeammat twistit.
– Jos peliä pitää kuvailla kahdella käsitteellä, ne voisivat olla TOISTO ja SHOKKI. Kaikki lisätehtävät toistavat samaa päätehtävän aluetta. Snake toistaa vankien pelastamiskeikkojaan. Pelaaja toistaa vanhoissa MGS:sissä toimivaksi todettua kaavaa: tsuh, headshot nukutusnuolella, tsuh, toinen headshot nukutusnuolella. Toiston lisäksi pelaajaa shokeeraataan vangeilla, kidutuksilla ja kirurgialla (spoilerikuva).
– Hideo Kojimalla on pakkomielle naisten tappamisen (ks. erityisesti MGS4) ja pelastamiseen (MGS1, MGS2). Ground Zeroes yhdistää pakkomielteet. Pelin ainoa naishahmo on kidutettu lähes tajuttomaksi, ja pelaajan täytyy kantaa tuskasta uliseva nainen ulos vihollisen tukikohdasta. "Hit me all you want", nainen voihkii ja nauraa. "Kill me!" Tämä on häiritsevää. Mitä Kojima yrittää sanoa? Että naiset kärsivät aina sodasta pahiten?
– Ainoa naishahmo todellakin kärsii pelissä pahiten. Kirurgis-väkivaltainen loppukohtaus on oksettavinta mitä olemme nähneet peleissä. Kohta on erittäin intensiivinen ja yökötystä herättävä ja jostain syystä sen tehoa lisää se, että ympärillä on peli eikä esimerkiksi kauhuelokuva (jossa kohtaus voisi olla peruskauraa).
– Peliin on laitettu myös ääninauha, joka viittaa siihen, että yksi hahmo pakotettiin raiskaamaan toinen. IGN:n Lucy O'Brian:
What's the deal? What's the point of this character's suffering? Kojima has spoken of "maturing" the medium towards that ever elusive acceptance as 'art' by tackling taboo themes, but what he is essentially doing here is utilising an age-old narrative trick to give his male protagonist a purpose. There is no interest in the broader complexities of Paz herself; she is nothing but a catalyst for the hero's quest in Ground Zeroes' successor, The Phantom Pain. Why? Because rape as a plot device is quick and easy as hell to implement and further, it lends a sense of gravitas to a story; a sense that the writer has crossed some dangerous line and we ought to congratulate him or her for that.
Muuta luettavaa teemasta:
If war is the stand in for the designer in the Metal Gear Solid series, and war necessitates the perpetration of sexual violence against women in that universe, then there's nothing casual about it. Instead, it signifies that Hideo Kojima has nowhere left to go. Design/war has to change, to stay new, to always be one step ahead of the player/protagonist, and so the real question is not "how did Kojima land here?" but rather "can Kojima think his way out of this?" In the drive for new narrative elements, Kojima has written himself into a creative corner. What we're seeing isn't just the product of a sexist world view, but instead a designer who, in his attempt to invent, to push, to surprise his audience, ends up going to a powerfully regressive and brutally violent place.
– Enemmänkin voisi kirjoittaa, mutta materiaali loppuu kesken. Vaikka tästä on jauhettu monta kertaa yli kyllästymispisteen, ei voi korostaa liikaa sitä, miten lyhyt ja puutteellinen Ground Zeroes on Metal Gear Solidiksi. Ensimmäinen läpipeluukerta vei jotain kahden ja kolmen tunnin väliltä, kun harhailimme ja nuohosimme tukikohdan takanurkkia. Toisella kerralla peli meni 40 minuutissa. Lyhyyttä on puolusteltu lisätehtävillä, mutta ne ovat tylsähköä toistoa eivätkä tunnu – ainakaan kahden pelaamamme tehtävän perusteella – lisäävän peliin varsinaisesti muuta kuin ahdistavia kidutusääninauhoja.
– Lyhyys itsessään (tai lyhyen pelin 30 euron hinta) ei tietysti ole yksin mikään argumentti peliä vastaan. Resogun on hyvä peli, eikä se välttämättä tarvitse lisäpituutta. Mutta kyse onkin halvasta arcade-räiskinnästä. Tekstipeli Sacrilege vie parikymmentä minuuttia, Gone Home pari tuntia, Stanley Parable puolesta tunnista muutamiin tunteihin ja niin edelleen. Nämä ovat loistavia esimerkkejä siitä, miten narratiivi pidetään tiiviinä ja intensiivisiä kokemuksia tuotetaan lyhyessä kestossa. Jos kidutusnauhoja ei oteta huomioon, Ground Zeroesissa keskustelua ja kerrontaa on pätkä alussa ja lopussa. Yhdessä kohtaa saattaa tulla lyhyt radiopuhe, mutta siinä se. Aikaisempien Metal Gearien trilleritunnelma puuttuu itse pelin aikana.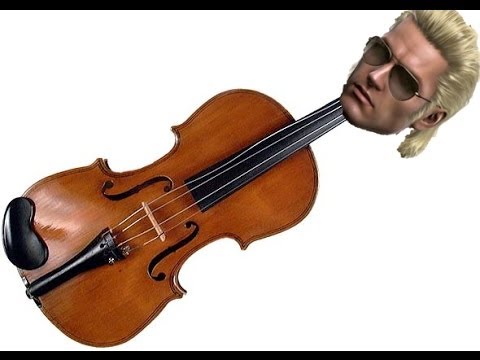 Loppubonuksena ehkä kaikkien aikojen hienoin foorumipostaus Metal Gear -sarjasta (sisältää spoilereita Metal Gear Solid kolmosesta):
The tragedy of Big Boss isn't that he becomes a bad guy, it's that he strives for an ideal that doesn't exist. After learning the truth about the Boss' defection, what he wants is to prevent another soldier from ever being the victim of political machinations again.He establishes Outer Heaven so soldiers can simply be soldiers, without being bound by the wills of suits and desk jockeys. But what he fails to realize is that there's no such thing as a neutral act of violence. A soldier fighting for Big Boss is no different than a soldier fighting for the Soviet Union. He becomes the thing he hates the most.

Snake Eater is a story about, above all things, perception. Remember that this was the first in the series to introduce the little thing where you can press R1 during cutscenes to see events through Snake's eyes. In doing so, we're given some extra insight into his character, even if it's just a jokey little bit where he's staring at Eva's chest while the Ocelots surround them. While it seems kinda small and insignificant, it's actually important enough that his eyes become one of the defining aspects of his character. His entire arc is illustrated through the first person view. MGS3 is a game where we see the lives of soldiers as through the campy lens of action movies(specifically modeled on James Bond and Rambo) before the facade is ripped away and we witness the true depth of their suffering. It's a campy action romp that ends as a tragedy. Honestly I think the way it plays with different tones is pretty genius.

The most important series of events in 3 is Snake's capture, torture and escape culminating in the boss fight with The Sorrow. The torture (In a microcosm of the whole game, the torture is first concealed behind a veil before it's gruesome nature is revealed) is the most graphic in the series up to this point, and there's certainly no way to "win" it like before. In Snake's cell we meet Johnny, who is actually somewhat of a warm and comforting presence. Johnny provides a humanity to all the enemy soldiers you've been facing thus far. He shows kindness to Snake, something rarely shown happening between opposing soldiers. Then the fight with the Sorrow confronts you(not just Snake, you) with your actions thus far, trying to make you rethink how callously you dispatch your foes. Now press R1 after all this happens. With his eye missing, Snake begins to quite literally see things differently. Most of the hidden R1 segments from here on out involve The Sorrow, the specter of death is shown to be guiding his every move. Snake doesn't kill Volgin, he's fried by a random bolt of lightning(summoned by the sorrow, natch). He's still beholden to forces beyond his control or comprehension. The final image we see is a POV shot of Snake tearing up as he stands before The Boss' grave. His vision is clouded here, just as his judgement will be. Literally and figuratively, he cannot see past his own pain. He is more or a less a slave to the traumas of his youth. His later ideals aren't based on any pragmatic view of what war should or shouldn't be, but just a personal desire to not be hurt in the same way again.

The important distinction between Big Boss and Solid Snake is that they're inversions of each other. Solid's story in MGS1 was all about him defying his "programming" and moving on to forge his own path despite what his genetic code(nevermind that nothing anyone in this game says about genes makes no fuckin sense, it's all metaphor) and the manipulations surrounding him were supposed to predetermine for him. On the other hand, when we meet Naked Snake he's still young and naive, but we the players know that in the future he will become a villain. In essence, his future is predetermined. Solid took what he learned about the world and used it to form his own set of values. Naked let them possess him and drive his every move. Moreover, Solid's eyepatch in 4 is on the opposite eye.

Metal Gear Solid 2 is about the folly of idolizing Solid Snake, and the danger of wanting to emulate him. The Solid Snake in this game is not the in-universe, canonical legendary soldier of Shadow Moses, but instead the video game character Solid Snake of Metal Gear Solid. And this video game character tells you not to take pixels at face value, but instead question who put the pixels there and the meaning behind them.

What I'm saying is, for Big Boss in MGSV to suddenly take charge and be the sole master of his destiny would contradict his entire character up to this point as well one of the series' main thematic conceits. Because well, being an independent man of action is an honorable and noble virtue, which is incompatible with the series' notions on war and conflict. War is a violation predicated entirely on lies and deceit, and participating in it of your own volition isn't meant to be admired or glorified.